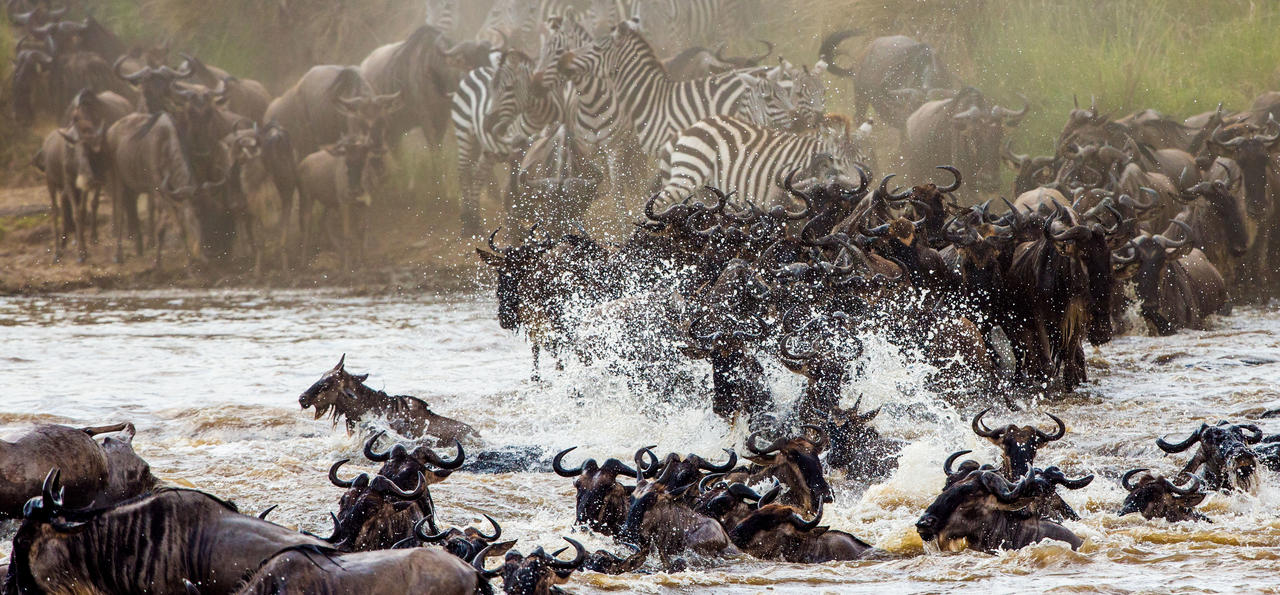 Eco Tours in Kenya Tanzania Safari
Despite the fact that Africa is globally known as the second largest continent but it is also made up of many attractive things in various countries.
Kenya and Tanzania are among the most talked about countries with best wildlife safaris in Africa most especially recognized for their annual great migration of Wildebeests and other species which migrate from Tanzania in high numbers to access Kenya in search of virgin pastures.
This great migration in Tanzania and Kenya happens each and every calendar year in months of July to October where over 1.5 Wildebeests and thousands of Zebras, Thomson's gazelles, Elands and Topis move from SERENGETI NATIONAL PARK in Tanzania to MAASAI MARA NATIONAL PARK in Kenya.
Both Parks lie on the borders of Tanzania and Kenya and are strongly attached together thus allowing animals to move from one Park to another without any difficulty.
Besides the annual great migration, still both countries are made up of many special things in their Parks which can be rarely found anywhere else in Africa.
For example; in Kenya's AMBOSELI NATIONAL PARK there is over 1,200 elephants being the highest number of elephants to be resided in one African Park thus it resides the highest number of elephants more than any other African Park.
On top of that the Park still gives clear views of Africa's highest Mountain (Mountain Kilimanjaro) which is found in Tanzania and it also resides all Africa's big five which include; Lions, African elephants, Cape buffaloes, Leopards and Rhinos plus many other species.
In Tanzania's LAKE MANYARA NATIONAL PARK you will meet the tree climbing lions. It is not really a common thing that all lions climb trees but definitely in the Park it looks to be a common thing because a lot of lions are seen resting at the branches of trees in the Park a thing which looks so special and amazing.
The Park is also known for residing over thousands of Flamingos though during the dry seasons they are not commonly spotted unlike in Kenya's LAKE NAKURU NATIONAL PARK which is the best place for viewing Flamingos in the whole world and it is known for residing millions of Flamingos at the shores of Lake Nakuru.
A largest number of Crocodiles and Hippos in East Africa are found in Kenya's MAASAI MARA and in Tanzania's SERENGETI thus making them the best Parks for wildlife safaris in East Africa since they reside a large number of wildlife thus giving travelers a great experience from there.
The balloon safaris in Kenya's MAASAI MARA are also of a lifetime because you will come to enjoy the aerial views of the entire Serengeti-Mara ecosystem where both Parks (SERENGETI and MAASAI MARA) lie.
Other amazing activities in Kenya and Tanzania include game drives and game viewing, nature walks, boat trips, bird watching, Mountain hiking, cultural encounters and many others.
To enjoy the amazing and attractive things in Kenya and Tanzania, you should consult the Eco Tours Tanzania to organize and plan for your safari. Both countries are in East Africa where the largest fresh water lake (Lake Victoria) is found.
Lake Victoria is another most attractive thing in both countries because it passes in both countries though it most resides in Tanzania.
Therefore after your safari tour in either Kenya or Tanzania depending on where your safari will start from, you can then access the other country through Lake Victoria as you enjoying its beautiful features such as Islands, cliffs and others or you can access both countries through the Serengeti-Mara ecosystem.
The Eco Tours Kenya will offer you with the best 4×4 vehicles which are most suitable for Kenya Tanzania safaris together with a trained and professional driver if at all you need a driver.
The agency's drivers are all professional, friendly and frequently speak English thus easing the communication between you and the driver and this means as you are heading in any of the Park in both countries, your driver will act as a guide too who will be showing you a lot of amazing things on the way thus getting a great time and experience from your safari.
The driver given to you should possess a valid driving permit and the agency's drivers have a great experience in all East Africa's countries including Tanzania and Kenya thus you will get a best time with any of them.