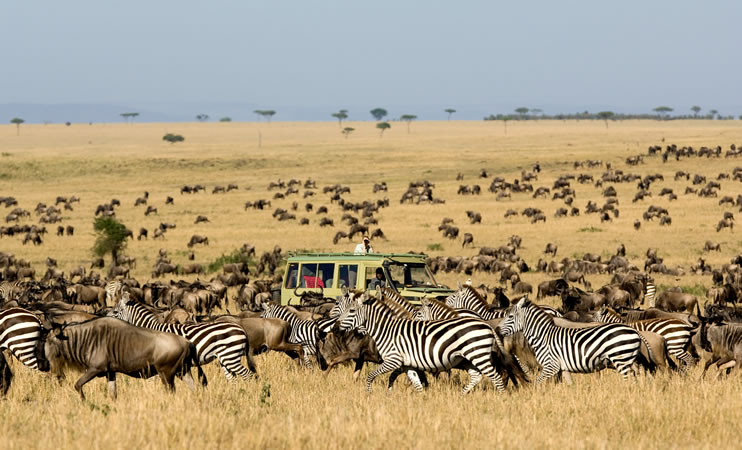 Great Wildebeest Migration Safari
Welcome to Kenya visiting the Maasai Mara National Reserve, Africa's best destinations for viewing a very large number wildlife. It is located in southwestern parts of Kenya in Narok County along the Tanzanian border.
It is famously known for its annual wildebeest migration that you can enjoy on your tours in Kenya and these animals migrate from Tanzania in the Serengeti plains to go for fresh pastures in Kenya and during the migration travelers will view these Wildebeests in high numbers (over 1.5 million Wildebeests) together with a large number of Zebras, Thomson's gazelles and others.
African Lions, Elephants, Cape buffaloes, Leopards and Rhinos which are regarded as Africa's big five are also resided in the Park in large amounts together with Cheetahs, Hyenas, Masai giraffes, Antelopes and high populations of Crocodiles and Hippos in the Mara River which is found in the Park.
A traveler to this park will view a variety of things including over 500 bird species. For tourists in Kenya should not also forget to visit a national park (Amboseli National Park) which inhabits the largest herds of elephants in Africa of which it is also found in Kenya with almost 1,200 free-ranging elephants together with the rest of Africa's big five species and with clear views of Mountain Kilimanjaro which is the highest free-standing Mountain in Africa being resided in Tanzania.
However, for those who viewing birds most especially the Flamingos, you should opt for Lake Nakuru National Park which offers views to millions of Flamingos and it is the best destination in the world for viewing a largest number of Flamingos.
However, if a traveler has limited time, 95% of Kenya's wildlife species including Lions, herds of Cape buffaloes, Zebras, Antelopes and many others can be seen in Nairobi National Park which is situated only 7 kilometers in the south of the center of Kenya's capital (Nairobi) together with views to over 500 bird species.
Nairobi and its resided Park are the only places in the world where you can go on a real safari with a backdrop of towering skyscrapers thus making it a very special city.